Why female role models in the newsroom matter for young journalists
Nabihah Parkar
Trainee journalist at the Press Association @NabihahParkar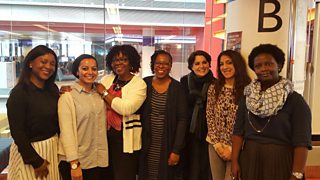 Nabihah Parkar (second left) with "inspirational" female journalists from Focus on Africa
How important are professional role models to a trainee female journalist?
I would say extremely important – something that has become more evident to me after spending one day a week for the past seven weeks on work experience alongside some inspirational women journalists at BBC World Service's Focus on Africa programme.
Now I can begin to assess the impact they have had on my confidence, determination and future ambitions.
For example, I've worked with sports journalist, Nishat Ladha, who juggles being a mother with proving herself in what is still a male-dominated sector of broadcasting. I learned from her how to plan and conduct interviews and report on the Africa Cup of Nations. She also taught me that trusting the specialist knowledge you've gained can be key to asserting your authority in a role like hers.
Working with a Nigerian journalist, Sola Njoku, about a sickle cell anaemia story, I learned that drawing from personal experience is not a weakness, it's a strength. In this case, it brought a unique insight into an otherwise factual and scientific news piece, hopefully helping to de-stigmatise a sensitive topic for African audiences by simply being open and talking about it.
Part of the reason my experience at the World Service has made such an impression on me is that it comes in the context of a widely reported gender imbalance in journalism.
According to a recent Reuters Institute study, almost half of UK journalists are women, but they're likely to find themselves less well-paid than their male counterparts and less likely to be promoted. A City University survey in December 2015 reflected a similar gap, finding that just over 20% of women earned more than £4,000 a month compared with almost 40% of men at the same salary.
Here at the BBC, 48% of all staff are female, according to figures published in March, but as elsewhere, that ratio seems to drop off as you climb up the pay grades.
So how hard is it – and how important is it – to make your mark as a woman in this industry? I took the opportunity to ask some of my new mentors for their insights and experiences. Here is a sample of what they told me:
Bola Mosuro, senior producer/presenter, Focus on Africa and Newsday (pictured fourth from left, above)
"If you ask me what I do, I say I'm a journalist and broadcaster. I shouldn't be defined primarily as a female one.
In a busy newsroom, there can be a bit of 'alpha male' syndrome. Having strong editors and deputy editors who were African women like me was a real source of inspiration. Having the solidarity of other women from all backgrounds has helped tremendously.
Reporting mainly on African matters, you still encounter veiled sexism or the patronising attitudes among some men, though perhaps it's not as prevalent as a couple of decades ago.
Our programmes are interactive so getting comments from female listeners saying they enjoyed a particular programme, for instance, or liked hearing a woman take a particular politician to task is rewarding.
Tackling issues which are sensitive and which other women would like to voice – but because of cultural norms are reluctant to discuss – means they feel you represent them. There is a feeling of empathy."
Kim Chakanetsa, presenter and producer for The Conversation
"I remember reading about a prominent US journalist who was sexually assaulted while she was reporting in Egypt. It happened in a public space. It makes me so angry that female journalists face more risks just by virtue of their gender.
I do feel lucky, though, to be living in a time where people are really trying to call out all the bad 'isms' – like sexism and racism – but it's one thing to call them out and another to effect meaningful change. I wonder if all salaries were made public how big a difference would there be in the workplace between men and women."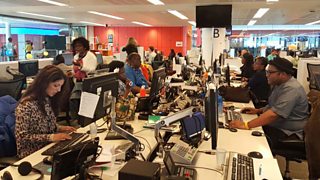 The Focus on Africa newsroom
Nishat Ladha, sports journalist for BBC Africa Radio

"Gaining respect as a female sports journalist is always a challenge. It's a test of character because you're always having to prove you 'know' as much as your male counterparts.
That said, my gender hardly ever comes up in the office. It has done occasionally when I've reported away from the studio – but even that is getting better. There is still a real lack of women, and particularly minority ethnic women, in senior journalistic positions and that needs to change.
I don't think the industry gender gap has affected me personally as a woman or as a mother, although perhaps if there was more support for working mums – and more tolerance of flexible working – I may have achieved more."
Maura Cullen, producer for Focus on Africa (pictured third from right in top image)
"I don't feel the gender gap affects me because I have never been discriminated against. However, if you have children you are often forced to step back from doing more professionally because of domestic responsibilities (at least this is what I choose to do).
Women are sometimes patronised, although I have seen the same thing happen to men. At the World Service, we are trying to reach more female listeners and working to get more women on air, while also making political stories translate to matters that affect people's everyday life.
We are doing more personal stories, including interviews with high achieving women who could be role models for our listeners – both men and women."
My placement at BBC World Service is almost complete. The challenging hands-on experience has been enriched by professionals who've all worked hard to establish themselves in journalism and who, I believe, underestimate the value of their example to new arrivals like me.
One highlight of my time on the fifth floor of BBC Broadcasting House was certainly Focus on Africa's special broadcast event for International Women's Day. The daily radio show was produced and presented by a majority female team, with a line-up of guests and interviewees that included prominent female politicians, activists and writers.
It celebrated the achievements of women in the region. And of course, it was a powerful showcase for the BBC female broadcasting talent.
I have been able to draw advice and guidance from as many male journalists in the department as I have from the women on the team. However, working with such a wide variety of talented female producers, presenters and correspondents, is pushing me to follow in their footsteps.
I can see myself doing this job. It matters.
Get In: BBC trainees and apprentices
Podcast: How to take the first steps in your career
Podcast: Making the most of a mentor